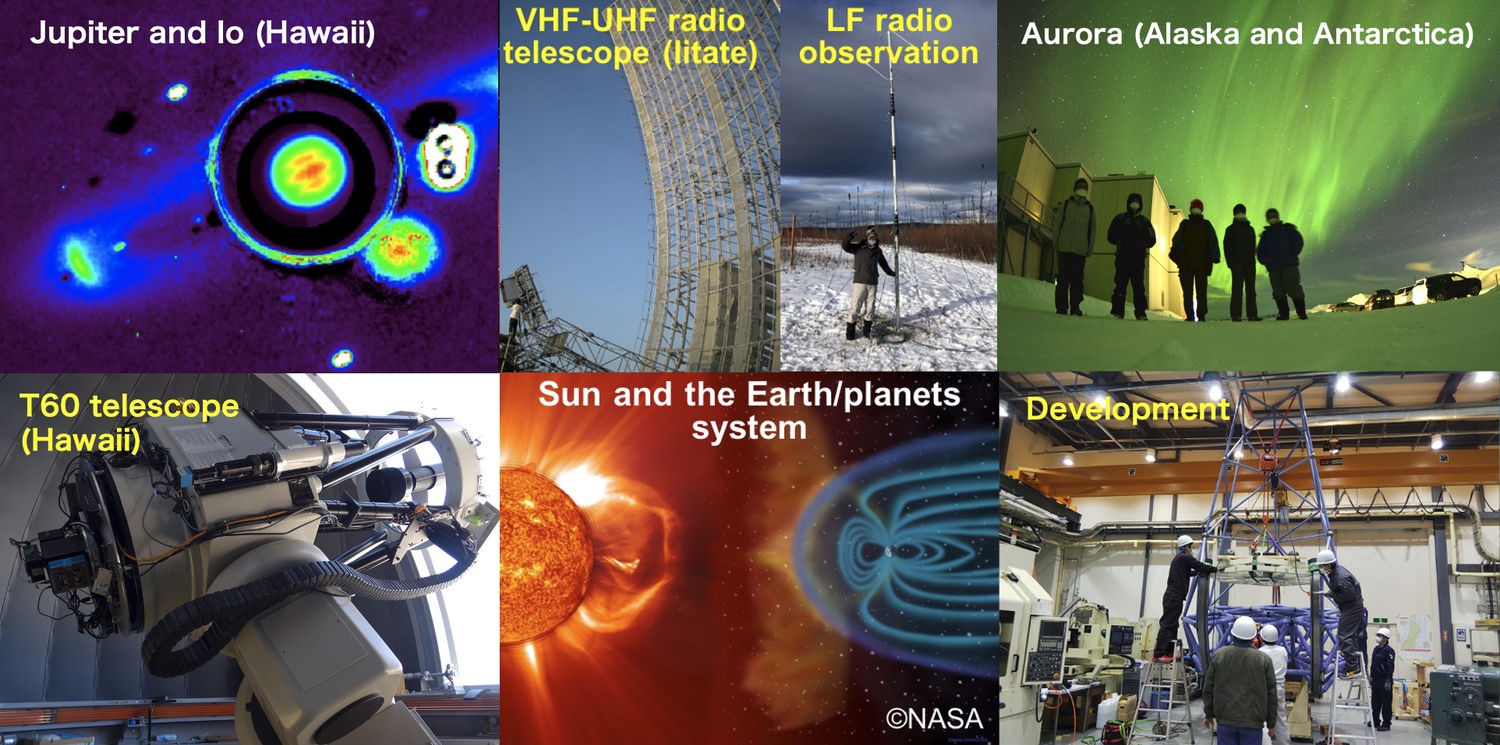 Research Subjects
・Planetary auroral radio emissions, radiation belt, and plasma waves in Jovian and terrestrial magnetospheres
・Solar radio bursts and particle acceleration in the solar corona Earth's pulsating aurora and related high-energy electron precipitation
・Generation of fine-scale aurora
・Development of infrared and visible imaging and spectrometery
・Development of scientific instruments on satellites
・Development of antennas and receivers for radio wave observations
Research Overview
Planetary Plasma and Atmospheric Research Center (PPARC) is conducting research, in collaboration with the Space and Terrestrial Plasma Physics Laboratory and the Planetary Atmosphere Physics Laboratory of Tohoku University, to elucidate scientific open questions of planetary atmospheres and magnetospheres mainly using "radio wave" and "light" observations from the ground and space.
Recently we have come to understand the behavior of planets, satellites and small bodies in the solar system. It is necessary to observe faint light and radio emissions in the vicinity of or surrounding planets with the latest technology to clarify the complicated processes in the coupling system between planets and satellites.
PPARC is the only research center that is currently observing planets and small bodies with light and the radio waves from the ground. We also collaborate the spacecraft, satellite and rocket missions as well as ground-based Antarctic and Arctic projects providing instruments. A better understanding of the planets, which we are trying to accomplish, is leading all of humankind to broaden its frontiers. The targets of our research are expanding to study the dynamics of the solar atmosphere and the Sun-Earth connection.
We operated radio telescopes to observe Jovian and solar radiations at four observatories in Miyagi and Fukushima prefectures. Another optical-infrared telescope observatory is located at the summit of Mt. Haleakala, Hawaii. All of the observatories are remotely controlled. Major facilities are listed as follows.
● 60-cm and 40-cm telescopes (T60 and T40) and visible spectrophotometer with imaging fiber unit, and adoptive optics (Haleakala, Hawaii)
● Development of space-borne optical and radio instruments, and data analysis obtained with them. In collaboration with ISAS/JAXA, NASA and ESA, we conducted the satellite missions as JUICE, TGO, Arase, Hisaki, Reimei, Akatsuki, ISS, and rocket missions as Rocksat-XN, and LAMP.
● A VHF-UHF range large radio telescope for researches of the solar plasma and Jupiter's radiation belt (IPRT; Iitate, Fukushima Prefecture). In collaboration with JAXA and NAOJ, we have started VLBI(Very Long Line Interferometer) feasibility studies with foreign countries.
● An HF-VHF range radio telescopes for researches of the solar plasma and Jupiter's magnetosphere (Zao, Miyagi Prefecture)
● An HF range radio wave receiving network facility for researches of Jupiter's magnetosphere and galaxies (Miyagi Prefecture, Fukushima Prefecture)
● A radio wave receiving network facility for LF standard frequency signals for researches of Earth's radiation belt and lightning (Hokkaido and Kagoshima Prefectures, Taiwan, Thailand, Indonesia, Norway, Canada, Alaska, Russia)

In collaboration with The University of Hawaii, U.S.A., visible lights coming from planets are observed on the top of Mt. Haleakala. At this moment, a project to develop a 1.8-m diameter offset telescope PLANETS is underway. Furthermore, through collaboration with research organizations in Alaska, Norway, and Sweden, ground-based observation of Aurora is being conducted in the Arctic.
On future projects, we are also carrying out a 1.8-m diameter offset telescope called PLANETS in collaboration with The University of Hawaii, and other international partners. Applying the compact high-sensitivity imaging sensor, we will install all-sky imagers at the South Pole station in collaboration with National Institute of Polar Research.
Homepage:https://pparc.gp.tohoku.ac.jp/?lang=en